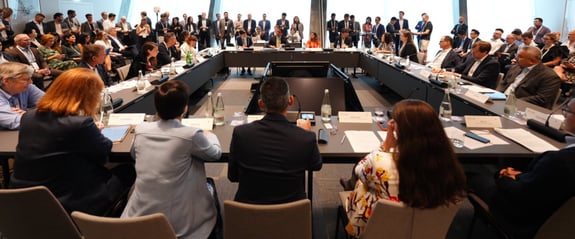 ELEVANDI INSIGHTS FORUMTM
The Elevandi Insights Forum leverages invite-only, long-form roundtables under Chatham House rules to enable a meaningful dialogue and to drive actionable outcomes between the public and private sectors. Each roundtable is curated alongside an anchor regulator or policymaker.
Each roundtable is purposefully curated to drive actionable outcomes, such as a whitepaper, a working group or the announcement of a commitment.
It's a platform for:
Policymakers to receive feedback from the industry on the rollout of regulatory frameworks, gain learnings from other regulators on implementation, pilots and live usage.
Industry leaders to engage in dialogue with regulators and showcase best-in-class use cases
Inclusive FinTech Forum | 20-22 June 2023, Kigali, Rwanda
The Governors Roundtable: Re-thinking Licensing to Promote FinTech for Good
Capital Providers Roundtable: FinTech Investment
Digital Public Goods in Africa - Open Source Vs Proprietary
Alternative Trusted Credentials Approaches to Accelerate New Digital Lending and Financial Empowerment Solutions for MSMEs & Financial Institutions
Insights on National FinTech Policies & Strategies for Financial Inclusion
Financial Integration in Currencies
Point Zero Forum | 26-28 June 2023, Zürich, Switzerland
SME Financing via Programmable Money and Tokenisation
Privacy in Digital Money from a Technology and Economic Perspective
Playback of Project Guardian – Unlocking TradFi with DeFi
Fostering a Green FinTech Ecosystem - Meeting of the Green FinTech Network
Who will Emerge the Digital Money Winner: Stablecoins or Tokenised Deposits?
DLTs' Sustainability in the Financial Sector
The Climate Data Roundtable: Interoperability, Access and Verification to Track and Finance Net Zero
Cryptoassets and Climate Change: Understanding the Carbon Footprint and Opportunities to Dampen It
Responsible AI in Finance: Navigating the Ethics of Generative AI
Unpacking Purpose Bound Money: Rethinking Programmability of Money
Collaborating to Deliver Payment System Innovations
DeFi and FX Markets
Artificial Intelligence in Finance: Market Transformation and Policy Considerations
Multilateral Platforms: Opportunities and Challenges in Enhancing Cross-Border Payments
Singapore FinTech Festival | 14 November 2023, Singapore
Exceptional Insights
Visit "Insights by Elevandi" for insights from the keynote speakers: